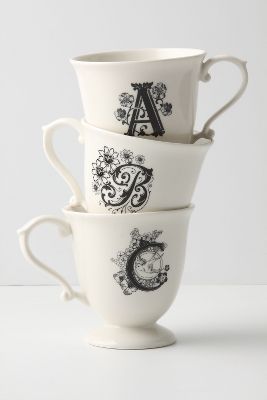 Just as much as I love shopping, I love procrastinating. Yesterday I gave myself a nice pat on the back when I thought I had finished all of my Christmas shopping. Until, of course, I realized that I did not finish buying for the girls in my office. Generally in offices like mine there's a limit on what you can spend, so here are some great gift ideas/stocking stuffers all under $15.
- For the practical one: Monogram coffee mugs from Anthropologie ($6). Almost every office has its food and dish-thieves. If you're sick of getting your coffee mugs stolen in the morning, this is an excellent and chic gift. Unfortunately I can't do anything about the girl that steals your peanut butter sandwich from out of the fridge.
- For the fashionista: S
equin Bow Headband ($6.00 from
www.Forever21.com
). Headbands are trend-right and easy to wear. Even your co-workers who aren't as fashion-savvy can get how to wear this gift. For the creative gift-giver: you can buy these headbands yourself at a local craft/hobby store and hot glue on whatever various ribbons, bows, feather, or sequins that you like. Once you get the hang of it, you have great stocking-stuffers for any woman on your Christmas list.
- For the person you don't know that well or the grab-bag gift: Burts Bees. Good for the environment. Good for your skin. They have a number of items that you can buy separately, or you can buy one of their starter kits for $13. They have Shower, "outdoor survival", hand, feet, and men's starter kits on their website for that introductory price. I swear by their Mama Bee leg and foot creme ($9). Natural ingredients like peppermint oil are good for your feet, and make you feel like you're doing something good for the environment as well.
Last-minute gifts for the girls in the office? Done. Now you're permitted to buy yourself a little present. Go on! It's the holidays... you're allowed.